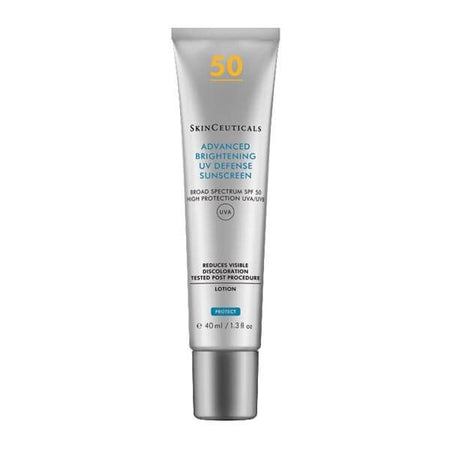 Skinceuticals
SkinCeuticals Advanced Brightening UV Defense Sunscreen SPF 50
This product is currently unavailable.
---
Description
Ultra-lightweight sunscreen that combines correction of discolouration and protection.
The dual-action sunscreen simultaneously protects against UV damage, whilst also correcting the appearance of discolouration thanks to an innovative combination of broad-spectrum UV protection and brightening active ingredients.
Benefits
Ultra-lightweight
Broad-spectrum sunscreen
Dual action to correct and protect against UV damage
Corrects the appearance of discolouration
Brightens skin tone & evens out the complexion
Formulated with 1% Tranexamic Acid, 2% Niacinamide and state of the art UV filters, this new sunscreen is clinically proven to improve skin clarity and brightness and reduce the appearance of discoloration.
Brightening active ingredient Tranexamic Acid is included in this formulation at 1% and works by deactivating the inflammatory mediators responsible of melanin formation. 2% Niacinamide disrupts the efficiency of melanosome transfer from melanocytes to keratinocytes, which is responsible for visible surface discolouration.
Directions
Ensure you apply sunscreen 15 minutes before exposing the skin to the sun. Avoid the sun at peak times in the day. Make sure you re-apply at regular intervals throughout the day to ensure your skin is adequately protected. Remember to always re-apply sunscreen after swimming, perspiring or towel drying the skin. Rinse from the eyes immediately and thoroughly if affected.
 Ingredients
Free delivery On orders over €100
Expert Advice 15+ years of experience
VIP Rewards Join our exclusive club
Guaranteed Irish Supporting sustainable jobs