Exilis 360 – face and body rejuvenation at it's best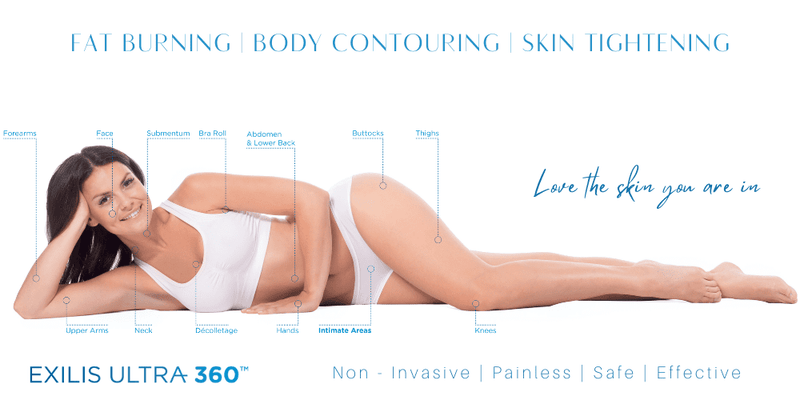 Say goodbye to your bingo wings, banana rolls, muffin top, saddle bags, double chin, saggy skin, crow's feet!
What is Exilis 360?
Exilis 360 is the treatment that celebrities like Kim Kardashian chooses to solve her skin/body problems! It is a non-surgical, non-invasive treatment for all over skin tightening, fat burning and body contouring. Endless treatment capabilities – from head to toe! It has been called "lunch hour bum lift" due to its fast and painless results! 
Benefits of Exilis 360:
Non Invasive
Painless procedure
Treat any part of your body
Tighten, contours and burns fat permanently
No downtime
Results can be seen within 2 treatments
How does it work?
Exilis Elite uses radio frequency and heat to effectively treat wrinkled and sagging skin by increasing collagen stimulation. A focused thermal energy (heat) is used to disrupt collagen fibers deep within the skin. The temperature at the skin surface is raised to 40-42°C. It only takes four to five minutes for each area to increase collagen stimulation.
What does the treatment feel like?
The treatment is pain free and very quick. Most patients report a warm comfortable sensation during the procedure. There is no downtime, so you can resume your daily activities straight away.
How many treatments will I need?
Individual results vary and depend on the area and skin condition. Clients typically require four to five treatments once or twice a week every 2 to 4 weeks. Visible improvements can be seen after the 2nd treatment.