Claire's ultimate summer skincare routine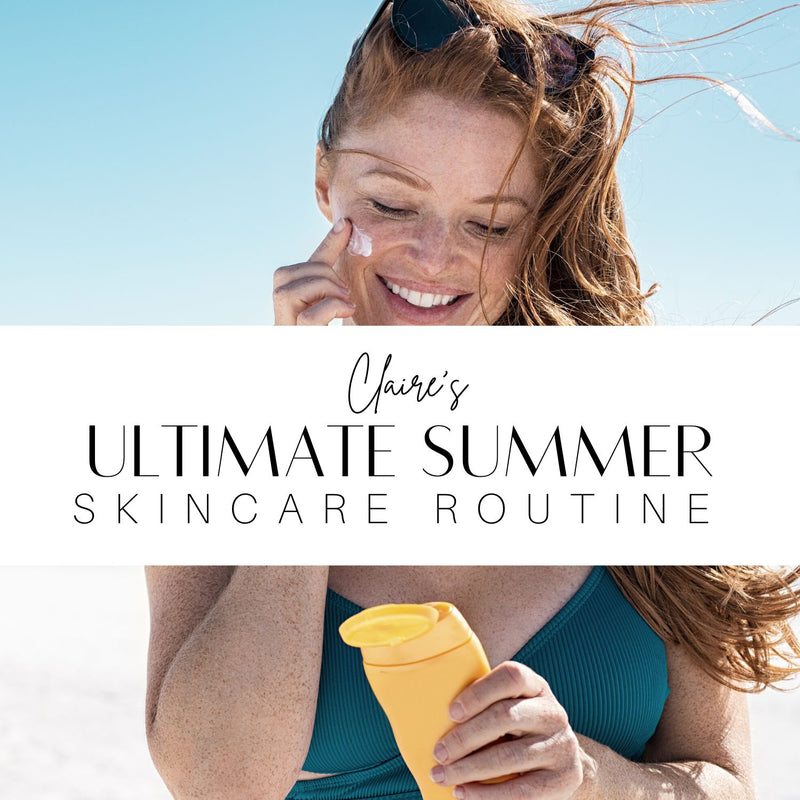 As we approach the hottest months of the year, Claire from the Skin Lab warns prolonged exposure to the sun's harmful UV rays can cause a range of problems, from sunburn and premature aging to skin cancer, causing skin to become discolored, leathery, and pigmented. Using a specialised skincare regime that includes SPF protection, dewy moisturisers and antioxidants will help keep your skin looking healthy and youthful for years to come.
Get ready to glow! Read on for Claire's ultimate summer skincare routine and top product picks for radiant skin.
Use creamy cleansers
As a skin expert and aesthetician, I understand the importance of a proper summer skincare regime. During the warmer months, our skin tends to produce more oil and sweat, making it crucial to find a cleanser that effectively removes impurities without stripping the skin of its natural oils.
That's why I recommend using a light creamy cleanser like Biologique Recherche Lait U as it also safeguards the skins barrier whilst allowing it to still breathe. By incorporating a gentle yet effective cleanser into your summer skincare routine, you can help keep your skin looking and feeling its best all season long. While I'm not a fan of washes, unless they serve a specific purpose, I always opt for a double cleanse at the end of the day using this cleanser. This nourishing formula not only removes all surface oils but has natural astringent properties that help to deeply cleanse the skin.
Protect your skin from all elements
It is evident that vitamin C antioxidants found in SkinCeuticals products are effective all year round, making them a staple in my skincare regime. However, during the summer months, it provides an added layer of protection against the damaging effects of the sun and other environmental stressors. SkinCeuticals vitamin C formulations are truly unparalleled. I particularly love the SkinCeuticals Silymarin. Unlike other vitamin C serums, it doesn't cause breakouts on my
acne-prone skin. The unique formula is a powerful vitamin C triple antioxidant serum formulated specifically for oily and blemish-prone skin. SkinCeuticals research shows that specific combinations of antioxidants, when effectively
formulated, perform synergistically to provide results superior to each single antioxidant formulation. The result of six years of research and development, this lightweight formula helps reduce oil oxidation, control excess sebum, and improve the appearance of blemishes and signs of ageing. By incorporating a serum into your routine, you can help protect your skin from the sun's harmful rays and the impact of oxidative stress cased by free radicals which will improve the overall health and appearance of your skin.
Consider photo-damage correctors
I highly recommend using a light-weight moisturiser that not only protects your skin against photo-damage but helps to correct it at the same time. Photo-damage is when the skin is exposed to the sun for a prolonged period, causing wrinkles and pigmentation. I recommend the SkinCeuticals Advanced Brightening Sunscreen, with an innovative HyperBright Complex, to actively target uneven pigmentation. It contains Titanium Dioxide and Mexoryl SX which filters the sun and therefore defends your skin against UVA and UVB rays. This multi-function cream gradually improves skin clarity while effectively preventing the development of dark spots in the future. I used this last summer whilst being pregnant and it really kept pregnancy melasma at a minimum. Pigmentation becomes more prominent in summer. Heat alone can stimulate the melanocytes, which produces melanin, which is responsible for the dark pigmentation of the
skin and hair. Whilst some pigmentations are hard to get rid of, it's important to use ingredients to suppress those pigment cells and keep them sleepy and dormant. Nighttime is all about rejuvenating and repair – during the summer I reduce my use of actives like your AHA'S and BHA'S and keep it simple with a double cleanse. I use Obagi Hydra drops and Alumier MD 0.25% Retinol Resurfacing cream two nights a week, followed by the nourishing and peptide-rich Hydrate Luxe from Obagi.

Summer skin tip:
In winter, you may develop rough and dry skin. Everyone seems to think that when summer comes around, you must up your exfoliating game to clear the effects of the colder months. When in fact, excessive physical scrubbing can dehydrate strip and inflame the skin, making skin conditions caused by winter, worse. 

I love to use Urea-Lactic Acid cream (50%) for very hard dry skin like ankles heels and elbows as I find it works fantastically, especially before fake tan application. For the body I use Relife's U-LIFE 20% moisturising body cream, due to its keratolytic action as it breaks down excessively keratised skin, by exfoliating the build up of dry skin. It does this by increasing the skins moisture by keeping in more water and encouraging dead skin cells to fall off.
I apply it to the heels, knees, ankles, elbows, and it works particularly well on keratosis pilaris, which is a common skin condition that appears as tiny bumps on the upper arms, thighs, or face. Don't overuse it though, 1-2 times per week is plenty, or until you have reached desired result.