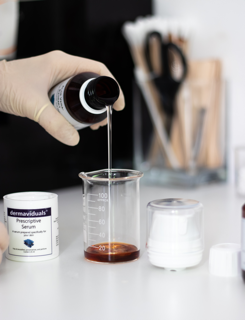 Dermaviduals
Dermaviduals Prescriptive High Classic no
Please log in to view the price and purchase this product.
---
Description
High Classic
Skin care for dehydrated and sensitive skin
DMS® creams make the ideal moisturiser for skin protection and maintaining the skins natural skin barrier. High Classic comes in an off the shelf 50 ml and is also used as the base cream for the customised prescriptive range.

Composition
This cream is 100% free of emulsifiers, mineral oils, preservatives and perfume for moisturising that is not detrimental to the skin. It's DMS content protects and regenerates the skins natural barrier whilst acting as the best form of carrier for any added active ingredients. It's high-quality skin caring substances; shea butter, ceramide, squalane and natural moisturizers that gently moisturise the skin without leaving an oily shine.

Best suited for
All skin types. High classic can be blended to target individual skin concerns.</em>

Directions for use
Apply between a 5p to  10p size, massage into the skin use in the morning and night with clean hands.

Size: 44ml
Free delivery On orders over €100
Expert Advice 15+ years of experience
VIP Rewards Join our exclusive club
Guaranteed Irish Supporting sustainable jobs